Tess Bilhartz

grew up in Dallas, Texas and lives and works in New York City, where she teaches drawing and painting at Borough of Manhattan Community College - CUNY. Recent residencies include the Skowhegan School of Painting and Sculpture (2017), and the Sharpe Walentas Space Program (2013). Solo shows at Arts and Leisure Gallery (2016), 0-0 LA (2017), and Super Dutchess (now Below Grand) Gallery (2020) all explored visual storytelling through the lens of cultural myths and personal experiences.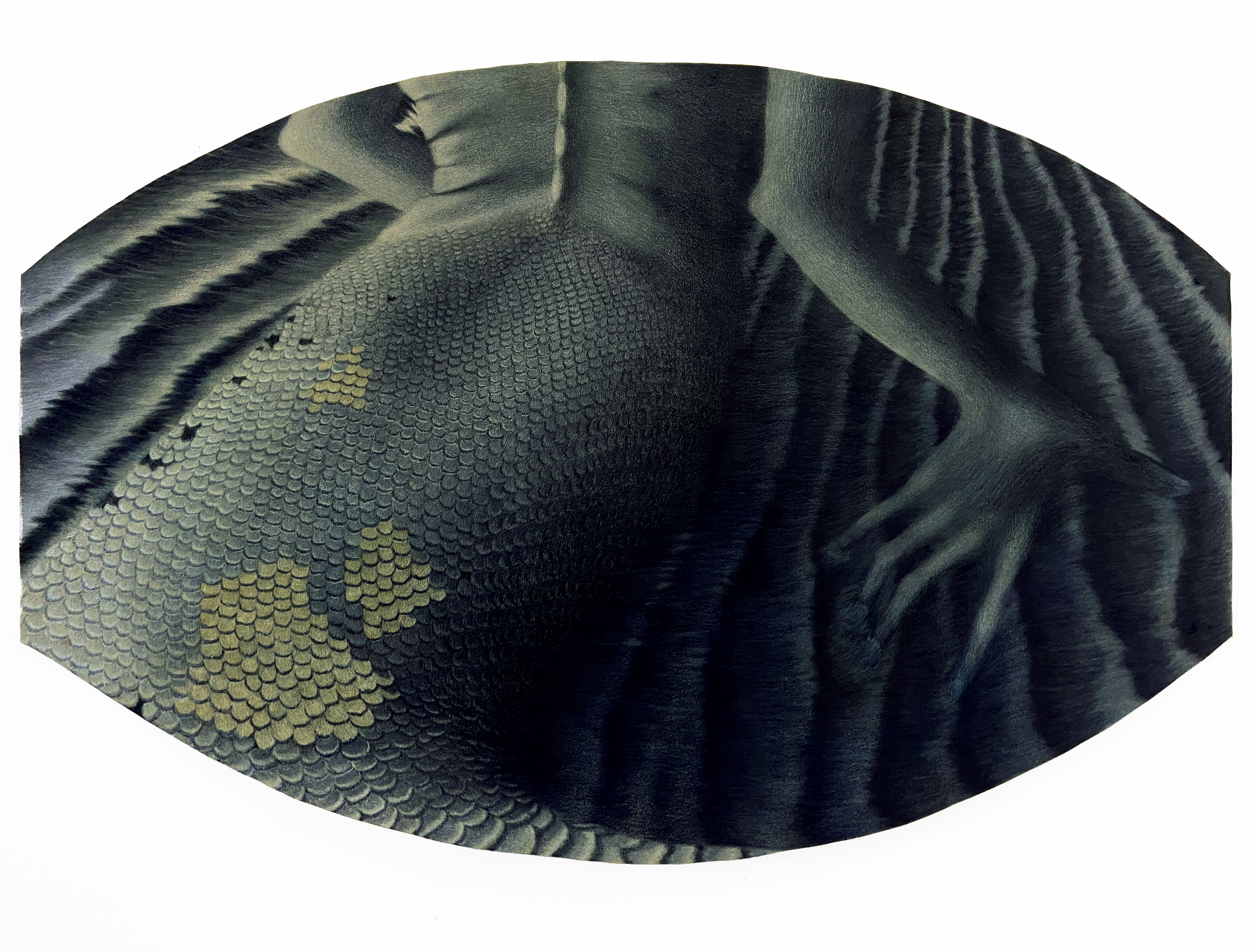 Follow Me Down

January 15 to February 27, 2022

RUBBER FACTORY is pleased to present a solo exhibition with Tess Bilhartz, Follow Me Down.

The exhibition features shaped works with fish-eye dimensions which approximates the human field of vision. Within these framed perspectives are quiet landscapes vibrating with undulating waves and the presence of alien sirens, at once violent and alluring. Rhythmic lighting with shifting colors and intensity turn the gallery into living, breathing womb for the works. The pulsing atmosphere traces the periphery of a narrative just out of reach as sirens, the ocean and nightmares form an apocalyptic maelstrom.

Bilhartz uses layers of precise colored pencil marks on these paper-based works to achieve a quicksilver surface tension in the pieces. They feel painterly but also eerily photographical in detail with haunted figures slipping through the background while scaly monsters appear ever closer. The scenes portrayed are supernaturally still, showing non-action sites inciting a sense of deja-vu that's hard to pinpoint. These moments are slippery horrors in plain sight leaving us with the feeling of being haunted by the things we cannot see. The beach recurs as a place of escape and fantasy, except the halcyon days in the sand are filled with the dread of monsters lurking under.

@rubberfactoryny
29c Ludlow Street, New York, NY 10002
hello@rubber-factory.info

www.rubberfactory.nyc