Ondine Viñao

(b. 1994, New York, NY) is a multi-disciplinary artist from New York City. She received her BFA with a concentration in video art from NYU Steinhardt in 2016. Viñao's work explores trauma intrinsic to female juvenescence, employing "other-worldly" elements to blur the lines between the menace and the victim. Femininity tropes are often caricaturized and abstracted through tools such as animation, special effects makeup, chroma key, and post-production manipulation. These projects unravel moments of solitude – losing one's sense of belonging and/or confidence – where the physical body is often portrayed as unnatural or featuring phantasmagoric characteristics. Employing auteur filmmaking aesthetics, Viñao creates a superlative experience that stresses formal concerns beyond narrative flow, such as composition, color scheme and lighting.

Viñao has exhibited video projects in the US and abroad, including at the inaugural show of ClearView.ltd in London, Labs New Artists exhibition at Red Hook Labs (Brooklyn, NY), and a two-artist show at The Goss-Michael Foundation (Dallas, TX.) Recent achievements include artist talks at Hauser & Wirth and New Latin Wave Festival in NYC, the publishing of her first photo book with Ginny Projects, and a residency at Chandelier Creative's Mermaid Ranch. Recent shows include Current Status of Women in Film at Ludlow House (NY), Overflow at Special Special Gallery (NY), Drawing a Blank at 1850 Amsterdam Avenue (NY), One Night Stand at Euridice Gallery (NY), Winter in America at Mom's Favorite Space (CA), Rotative Repository of Latin American Video Art at Brooklyn Bazaar (NY), and The Bunt at Broxbourne Railways (UK).

View artworks on

Artsy




CV




Exhibitions

Holy Fools
January 9 – February 3, 2019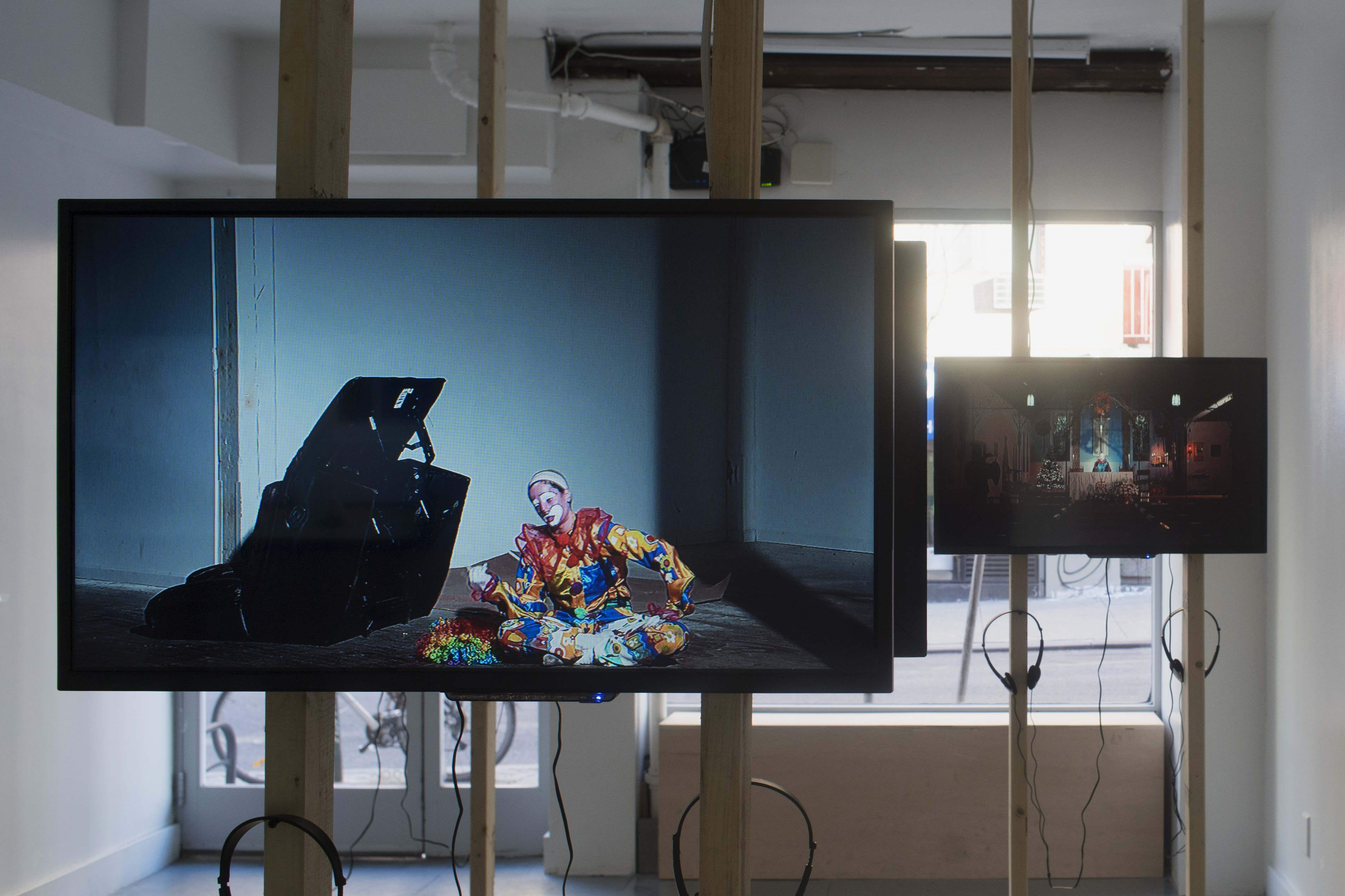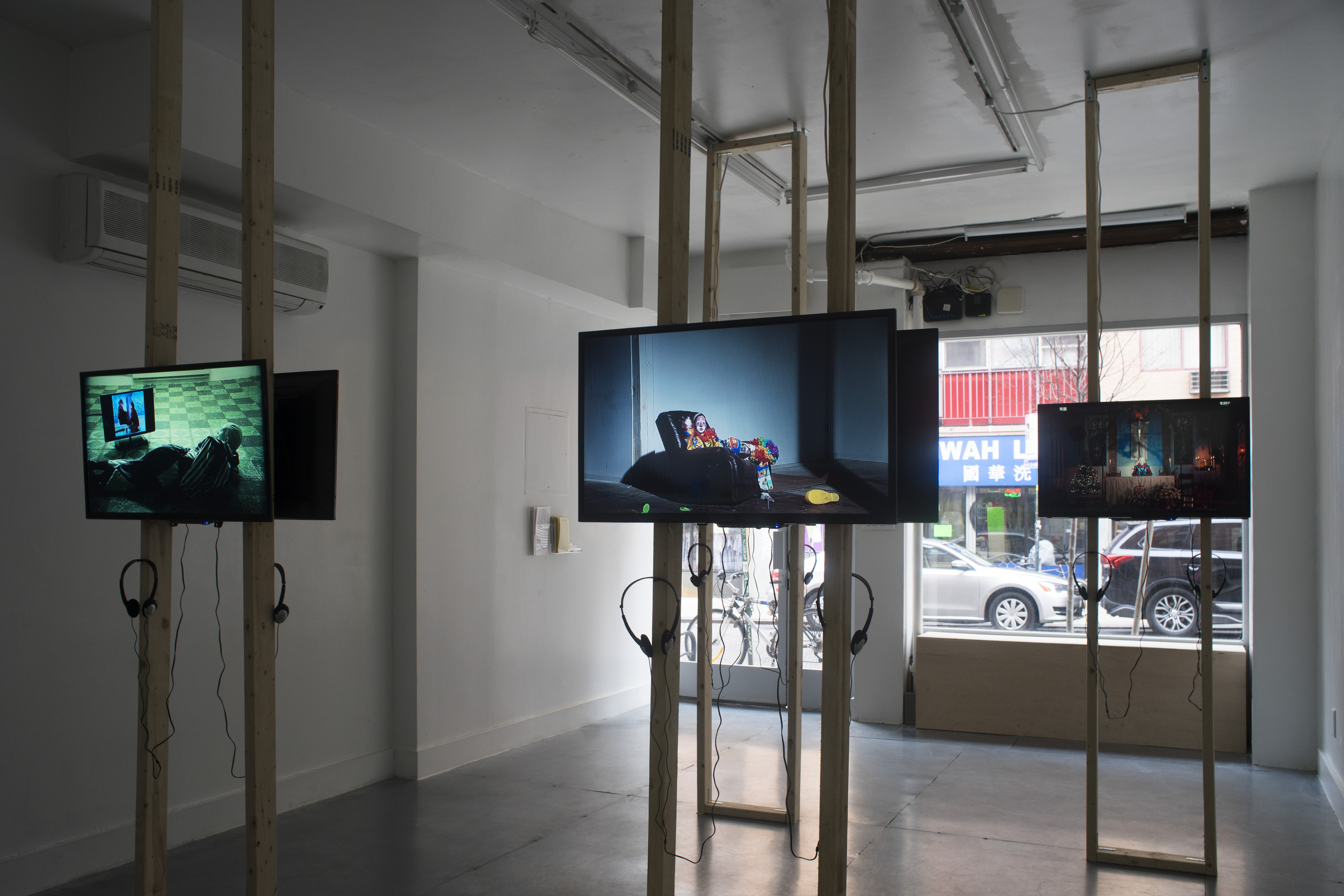 RUBBER FACTORY is pleased to present a solo exhibition by Ondine Viñao, titled Holy Fools. Holy Fools is a nine channel video installation which probes Bruce Nauman's central ideas and devices from Clown Torture (1987) while exploring trauma intrinsic to female juvenescence.

In Nauman's seminal installation video work, the piece chronicles six bizarre narrative sequences, starring a clown played in perpetual loops, each clown embodying a different form: the Emmett Kelly dumb clown, the French Baroque clown, the traditional show clown, and the jester. Nauman's videos are loud and uncomfortable, both for the subject as well as the viewer, as the protagonist endures nonstop self-inflicted torture. In "Clown with Water Bucket," for example, the subject repeatedly opens a door that is booby-trapped with a bucket of water, sousing the subject time after time.

While Holy Fools is not an explicitly gendered reading of Nauman's Clown Torture, Holy Fools materialized through retrospection by Viñao and three female performers, with whom the artist shares close working and nonworking relationships. In their collective journaling, Viñao's subjects recount the familiar narratives of the female experience: sexual abuse, a motherless childhood, the pressures to perform femininity. The concept of the clown embodies a mediated role for Viñao's subjects to relive these traumatic episodes.

Viñao's work reexamines Nauman's piece by recasting the traditional figure of the clown in the context of the Holy Fool, defined as one who strives "with imaginary insanity to reveal the insanity of the world." Just as the Holy Fool in its traditional role feigns madness in order to provide the public with spiritual guidance, Viñao's performers exploit the performative nature of the fool as a cathartic and liberating tool for trauma to be related to the viewer. Additionally, the therapeutic potential of exposure therapy, where one identifies the emotions or physiological arousal that accompanies a pain-inducing stimulus to break its insignia, is a central motif in Holy Fools. Starring four female subjects, each of Viñao's Holy Fools caricatures and abstracts psychological torture to investigate childhood trauma; each vignette focused on a performer's specific memory, dissociated into a word, phrase, song, or action repeated and relived by the subject. Just as in Nauman's Clown Torture, Holy Fools depicts each clown enduring their pain in perpetual loops. The cyclical nature of the work consecrates trauma and simultaneously reclaims the pain each performer relates to the word, action, or experience.


@rubberfactoryny
29c Ludlow Street, New York, NY 10002
hello@rubber-factory.info

www.rubberfactory.nyc