Zoe Avery Nelson

was born in Rhinebeck, NY and received an MFA from Columbia University. They have mounted solo exhibitions at The Ice House, Garrison, NY (2018); The Lighthouse Works Gallery, Fishers Island, NY (2017); Cleve Carney Art Gallery, Glen Ellyn, IL (2015); Western Exhibitions, Chicago, IL (2014); and a two-person exhibition with Judy Ledgerwood at Practise, Oak Park, IL (2017). Nelson'swork has been included in group exhibitions at 1969 Gallery, New York, NY; Greenpoint Terminal Gallery, Brooklyn, NY; Fresh Window Gallery, Brooklyn, NY; Durden and Ray, Los Angeles, CA; and numerous Chicago-based galleries including South of the Tracks Projects, LVL3 Gallery, and O'Connor Art Gallery at Dominican University, among others. They have received press in ARTFORUM, Huffington Post, Bad at Sports, Newcity, ArtMaze, and New American Paintings.

View artworks on

Artsy




CV




Exhibitions

The Measure of a Boi
March 20 to May 12, 2019
RUBBER FACTORY is pleased to present a solo exhibition of new paintings by Zoe Avery Nelson.
In a series that explores the temporality of inhabiting/being a body, Zoe Avery Nelson's work moves within and outside the symbolic, through fragmentation, contradiction, and tension. A structured tension of desire and absence – desire for a form of the body that would be fluid and habitable – yields to a movement in which anything can become any other body part. Zoe Avery is also inspired by the euphoria of techno which synthesizes music and the self to create third spaces where the body becomes a portal for new possibilities. They are interested in upending stable materials, such as the subversion of the industrial spaces (once utilitarian) which become hosts to dancing techno crowds until the temporal notions of night and day becomes blurred. The exterior physical self manifests the fluid interior life and vice versa in a recursive bind as Zoe Avery explores the constructing of the self. The form of a body is always an imagined thing; it is in and as fantasy (and painting), that the desiring body is apprehended and lived.
"I am a painter. I am Zoe Avery Nelson. I built a series of paintings around constructing a body that more accurately resembles the fluidly gendered body that I inhabit. As I worked on this series, I started to dance. To dance is to feel the presence of time. To be clear, this is a show about and of paintings. I am a painter. I am Zoe Avery Nelson. And I also dance. From these paintings, I found Avery, or rather, Avery found me on the dance floor, and I found Avery through painting. At first, Avery was fragmented and found in moments of slippage, or referenced through an object of desire or ambiguity. As I started dancing, the distances between myself and Avery – between fantasy and lived experience – stared to decrease. The distances between the fragmented sections of a painting started to decrease as well. That is how Avery emerged. To be clear, there is nothing linear nor exhaustible about this sequence. This collapse of self and other can only be found in motion, and therefore must be lost and found again and again. And I invite you to look, as I paint and live this process."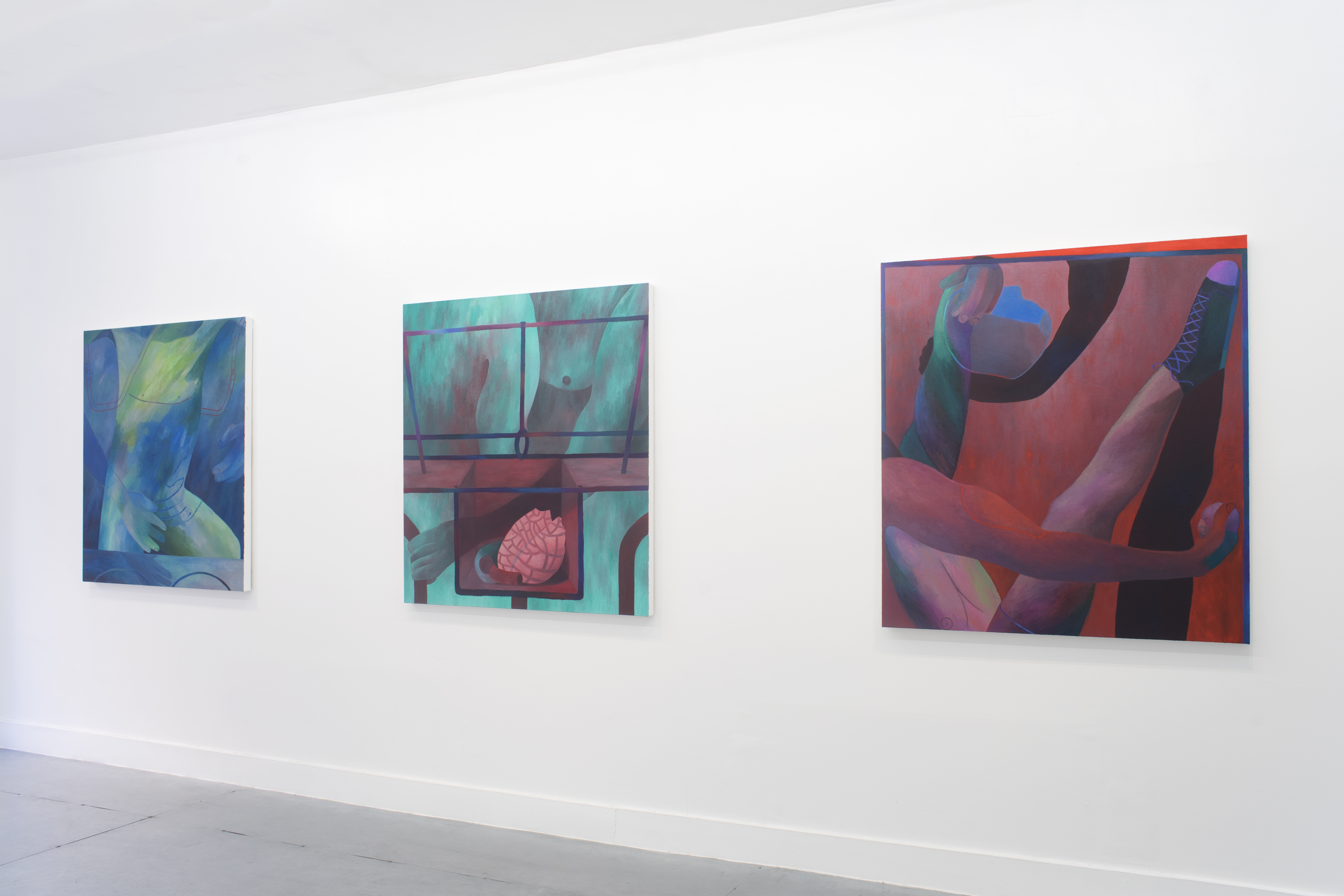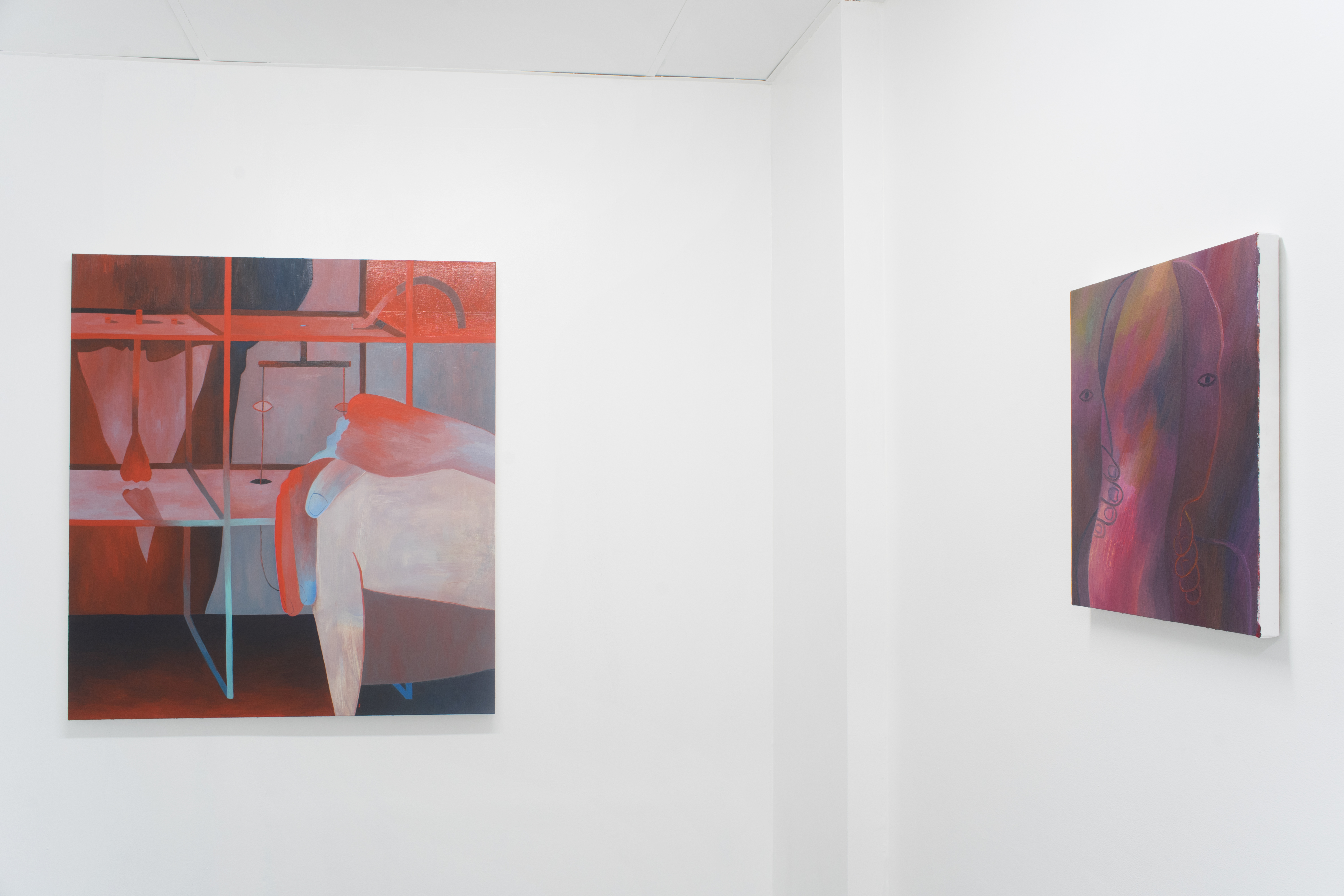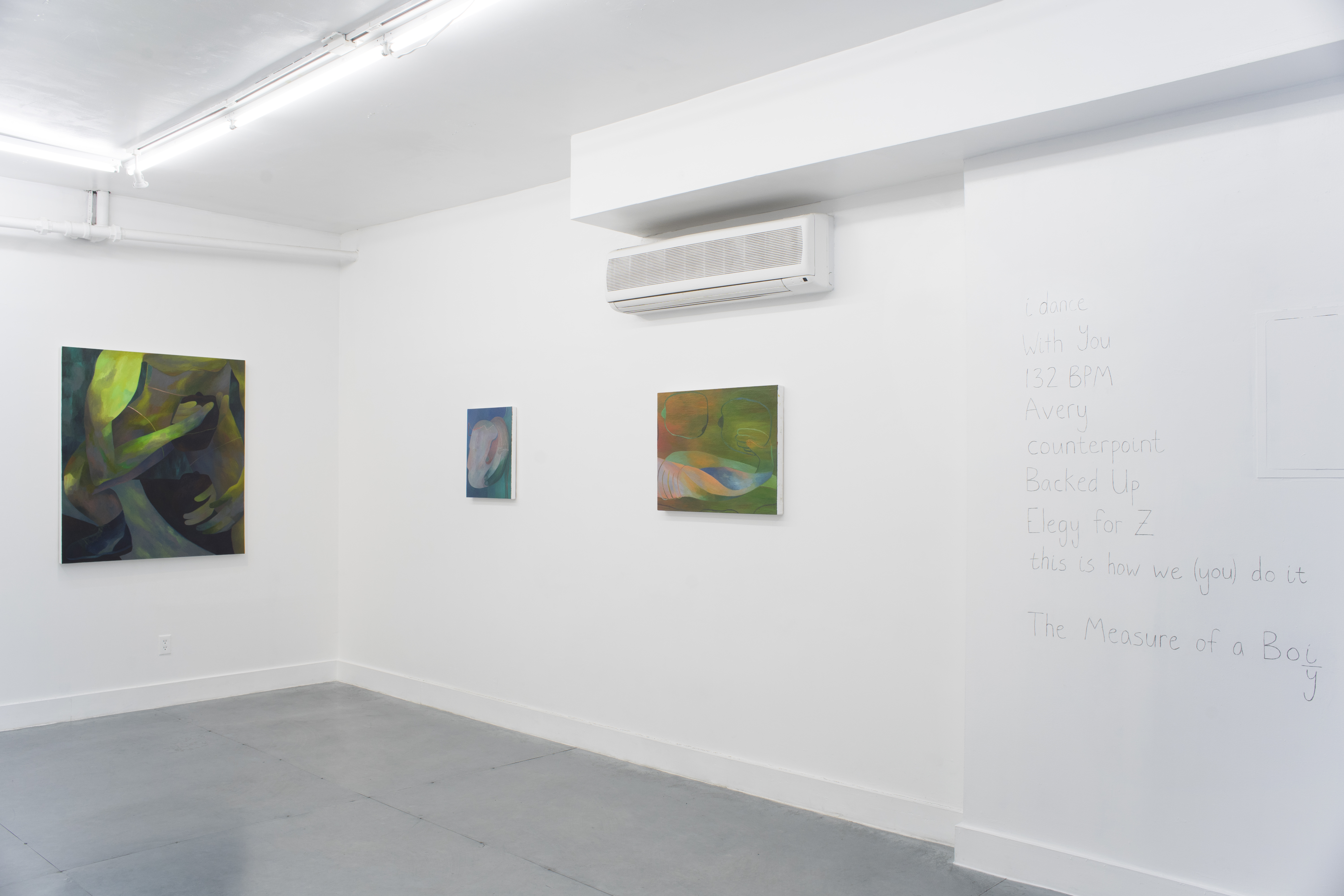 @rubberfactoryny
29c Ludlow Street, New York, NY 10002
hello@rubber-factory.info

www.rubberfactory.nyc