Ronny Quevedo

(b.1981, Guayaquil, Ecuador) works in a variety of mediums including sculpture and drawing. Quevedo's work has been exhibited nationally and internationally at The Whitney Museum of American Art; Perez Art Museum Miami; Elizabeth Dee Gallery; The Drawing Center; the Queens Museum; The Bronx Museum of the Arts; and Museum of Fine Arts, Houston, amongst others. He is a recipient of the 2017 Blade of Grass Fellowship for Socially Engaged Art and the 2016 Queens Museum/Jerome Foundation Fellowship for Emerging Artists. He has participated in residencies at the Lower Manhattan Cultural Council, Kala Art Institute, the Core Program at the Museum of Fine Arts, Houston, Project Row Houses, Skowhegan School of Painting & Sculpture, and Lower East Side Printshop. He has been published in Hyperallergic and Art Forum. Quevedo received his MFA from the Yale School of Art in 2013 and BFA from The Cooper Union in 2003.

View artworks on

Artsy




Exhibitions

Silueta
September 6 to October 13, 2019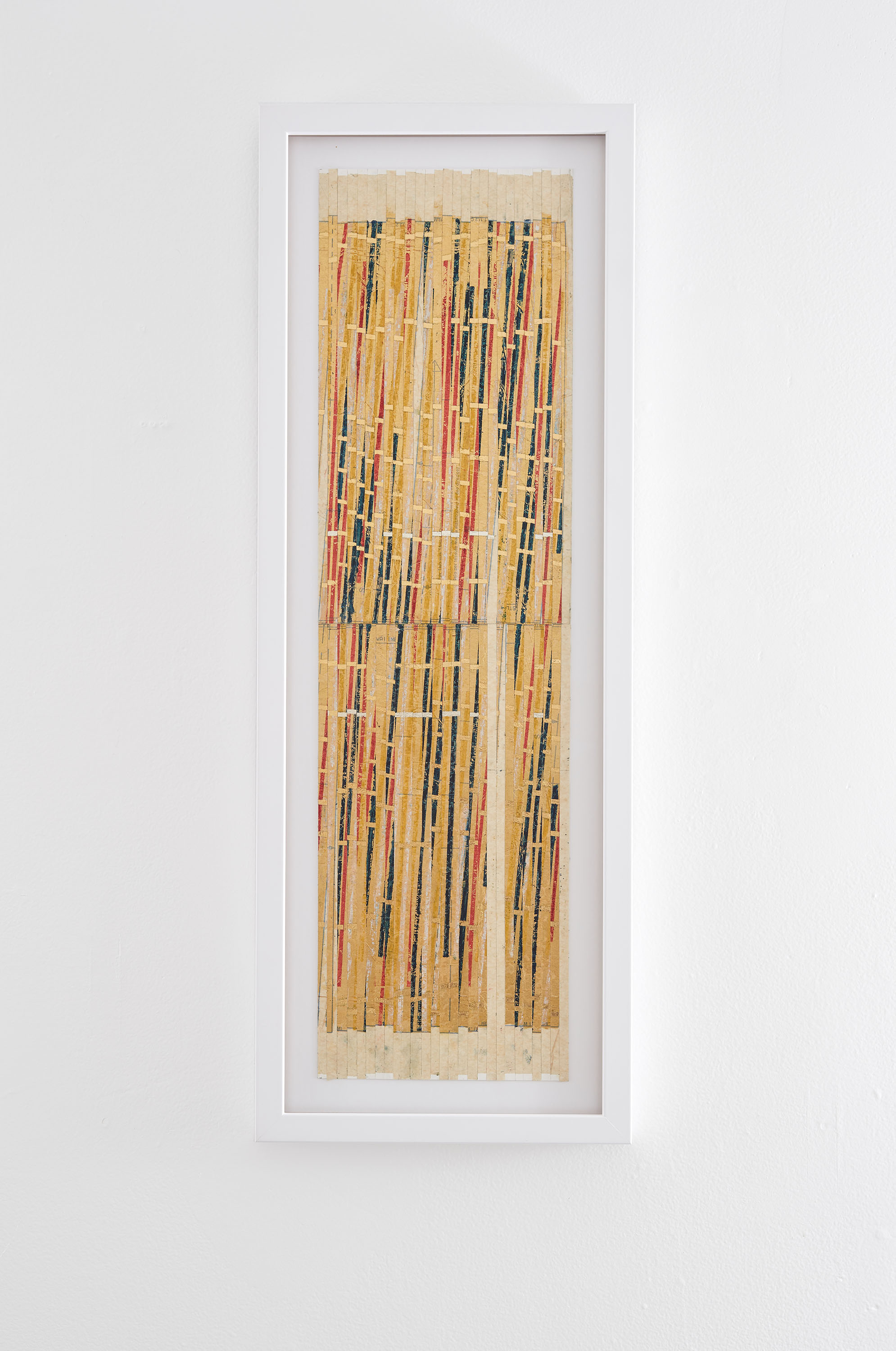 RUBBER FACTORY is pleased to present a solo exhibition of works by Ronny Quevedo.

Silueta is an exhibition that explores the role of the body in manual labor. Derived from the violence of conquest, pursuit of material wealth and socio-economic struggles Silueta illuminates the fragmentation of migrant history.

The exhibition includes Ronny Quevedo's series los desaparecidos and collaborations with the artist's mother Noemi Quevedo, a seamstress. The works incorporate muslin, dress-maker wax paper and clothing patterns to highlight her history in the garment industry while pointing to a lineage of Andean textiles in contemporary abstraction. Checkerboard patterns recall an Incan motif while simultaneously suggestive of timeless fashion designs used for vernacular functions such as uniforms. The patterns are also maps to spectral bodies, invisible yet present for example when Quevedo alludes to the outlines of a zoot suit; the garment pointing to a complex multi-national identity which defied convention. The body is rendered topographical as it is reduced to shape, size and span. Overlapping lines become points of convergence for histories, economies and bodies.

Quevedo is also inspired by museum vitrines that house luxury goods once worn by indigenous rulers in his clothing patterns. Often entombed with the rulers, the formal composition of these fabric works reference the material culture of pre-Columbian cultures and their contribution to mathematics, language and design. By bringing these formalist elements into the present, Quevedo posits these contributions to abstract language in order to disrupt a static view of antiquity and forge in the process an encompassing American identity.

Each iteration in this series is overlaid with the narrative of a mythic archetype or historical figure – from the quipu keepers (Quipucamayocs) to Afro-Ecuadorian soccer legend Alberto Spencer. Quevedo's works oscillate between the ancient practices of indigenous people and his own personal history in order to present a migrant identity and lineage which is rhizomatic. As a dual-national, multi-lingual, first-generation migrant, Quevedo reimagines a past, present and future free from the existing narrative of power.


@rubberfactoryny
29c Ludlow Street, New York, NY 10002
hello@rubber-factory.info

www.rubberfactory.nyc